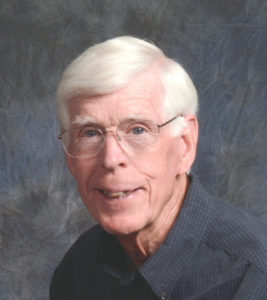 "I've had a good life" were the final words of the man we called brother, husband, father, uncle, grandfather, great-grandfather, and friend. Teaching and learning were lifelong pursuits for George – from science and nature to history to fixing things around the house. There was nothing George didn't accomplish once he decided to take on a project. He wasn't one to do things half-hearted and lived by the motto of doing things right the first time. Most importantly, anyone who knew George remembers him as a kind and caring individual who did not hesitate to help those in need and though he enjoyed his solitude, his gift was his generous spirit and helping hand.
The youngest of four boys, George was born during the depression in New York City. The Macleod family moved to Kalamazoo in 1939 where George resided until his death. His athletic career started at a young age where he excelled at shot put in Junior High School. George was a three sport athlete at Kalamazoo Central High School, playing football, basketball, and track. He continued his athletic career at Kalamazoo College where he was a member of the football and track team. After receiving his BA degree from Kalamazoo College, George continued his education at Michigan State University and received an MS degree in Zoology and Botany along with a Teacher Certification. In the fall of 1962, he was hired by Parchment Public Schools to teach 7th and 8th grade science, coach 5th-8th grade basketball teams, and assisted with coaching the varsity high school football team. The following year, George moved to the high school to teach biology classes where he remained teaching for 32 years. His summer months were spent painting houses with his good friend and teaching colleague, Ron Ruster. In 1992, George was selected as "Who's Who Among America's Teachers – The best teachers in America selected by the best students" and in 2020 he was inducted into the Parchment Community Hall of Fame.
Family and community were important to George. He married the love of his life, Linda Kaye Tifft, in August 1962. They had two sons, Kenneth (Devida) Macleod and Robb (Apryl) Macleod. George loved being involved in family activities and was fortunate to be an active participant in the lives of his nieces, nephews, grandchildren, and great-grandchildren. He was also an active member of the community. At Stockbridge United Methodist church, he was the historian, basketball coach, and member of the Asbury group. He was a member of the Kalamazoo Antique Bottle Club, Kalamazoo Antiques Club, librarian for the Kalamazoo Audubon Society, President of the Kalamazoo Science Foundation, Historian for the West Main Hill Neighborhood Association, and volunteered for the Western Michigan University Archives.
George had a love for all natural things. In 1970, George and Linda purchased 10 acres outside of Hastings, Michigan. This land, affectionately known as "The Farm", was a retreat from the busy city life where the family could learn about wildflowers, birds, amphibians, and reptiles. George loved to share this special place and teach others about the unique wonders of nature. While the Macleod household was not known to have traditional pets, there was an abundant supply of unique pets, including rats, tarantula, snakes, and turtles.
George Macleod leaves behind many family and friends, including his wife, two sons and daughters in law, five grandchildren and two great grandchildren. He is also survived by his brothers, Garrard (Moira) Macleod and Robert Macleod. George was preceded in death by one brother, David (Mary) Macleod and his father A. Garrard Macleod and mother Margaret Macleod.
Life is not always roses, but it's not always hurricanes either. George looked at life through the lens of roses while recognizing the presence of hurricanes. In choosing roses, he was able to say, "I've had a good life", and that is what he would have wished for everyone.